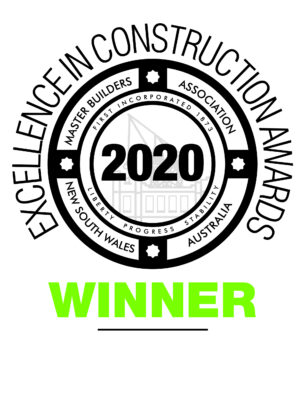 Beach Constructions (NSW) Pty Ltd has won the NSW Master Builders' Construction Excellence Award for transforming a dilapidated old warehouse on the top floor of a heritage building in Surry Hills into a modern workspace with a mezzanine floor and roof top terrace that opens up to the city skyline.
"We are absolutely thrilled to win a prestigious Master Builders Award, said Sarkis Mouradian, Construction Director at Beach Construction. "
The Ballarat House project, located at 62-78 Wentworth Ave, Surry Hills is an excellent example of heritage protection and contemporary architectural design being brought to life by Beach's innovative and collaborative approach to construction.
Sarkis said "I am very proud of the Beach team and our sub-contractors for the work they did on this project. Not only did we complete the works within the confines of a heritage building, the roof was removed and replaced whilst the building remained operational and fully tenanted."
The unique architectural design also required the 100 year old timber from the old roof to be repurposed and used throughout the workspace. Using specialist trades the timber was milled and reused to create privacy screenings which are now a key architectural feature" he said.
The announcement was made via the online awards ceremony held on Friday 20th November and it is the second award the builder has received for this project. On the 16th October, Beach Constructions received a High Commendation at the Australian Institute of Building (AIB) Awards for Professional Excellence in Building.
"We entered the Master Builders Award this year because we believe projects that revive our architectural history and integrate heritage features with modern design should be celebrated.  These projects often present unique challenges that can only be overcome with excellent construction management skills and innovative solutions to managing risk and buildability issues." Sarkis explained.
"I would like to thank our wonderful client Monique Coorey from Moruben Enterprises and Hill Thalis Architecture for choosing Beach Constructions to partner with them on this very special adaptive re-use project. Together the heritage fabric of the building has been not only protected but enhanced and the result is a stunning, modern workspace that blends contemporary and heritage architecture."
Beach Constructions NSW Pty Ltd is a commercial builder located in Leichhardt who has been building commercial projects for 30 years. They specialise in heritage, industrial, automotive and education projects.
For photos check out https://www.beach.com.au/current-projects/featured-project/.